Managing your restaurant
is like conducting a big orchestra.
Harmony, timing, and precision
is what you're aiming for.
We are also aiming to save you money.
These are the ideas behind DreamDiner.
It will only take 5 to 6 minutes to open your restaurant on the DreamDiner platform, ready to get orders.
Sounds fictional, but it's the truth.
Hello, and thank you for onboarding!
Start with DreamDiners' super-friendly wizard, which is also super flexible and customizable to create your business.
Choose which type of business your restaurant is.
Choose which features are needed.
And always remember that everything, completely everything – can later be changed, removed, or added within your business admin panel, created once your business is live.
Heading from there, surprise yourself by testing your creation by making a self-order as any one of your clients will do.
Expect a summary email of this order,
Or, take it one step ahead: log in to your Kitchen app to realize where all the magic happens – you can control this order from here!
Even Check out Reports – live and updated all the time.
Finally, choose your business model. Stick to our FREE plan or consider getting paid within the system.
Sometimes, dreams come true: You might want to enroll and have your restaurant presence as a white-labeled app in Google Play or Apple's App Store. Now you can!
Sounds good, ah?
So everything is just minutes away and all at your fingertips.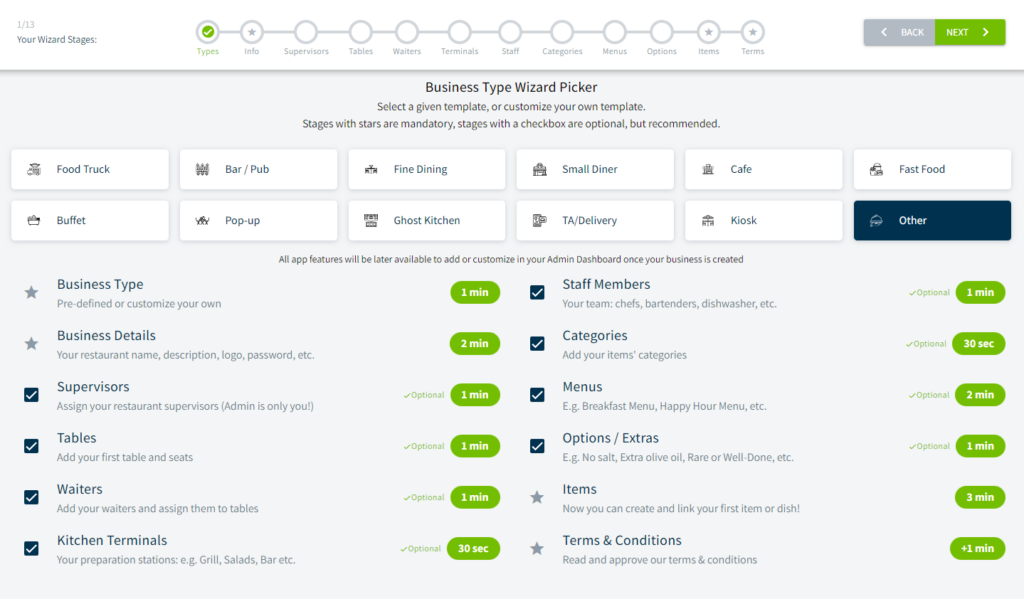 The Clients App is where any client can find your business, explore the menu and then make an eat-in, takeaway, or delivery order. All items and dishes are displayed under categories and menus, sections you have already mastered and set on your business dashboard. Once your business is created, your digital menu is free for client use. In addition, your clients can make and pay for orders on the app if your business plan supports this tier. Encourage your clients to download this app, easily find you, make an order, pay, and hopefully, come again!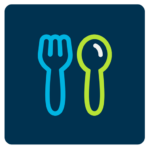 Categories group relevant items 
and then display them in the Menus. 
For example: Burgers, Starters, 
Cocktails, Hot Drinks, etc. 
Your items and dishes can be linked 
to one or more categories: 
For example, a Home Burger can be linked to 
the "Burgers" category, 
to the "Beef" category, 
and to the "Our Specials" category!
Categories are unlimited, but try to be concise.
Choose an icon from a provided given set, 
or upload your own to give your menu 
the perfect look & feel you wish.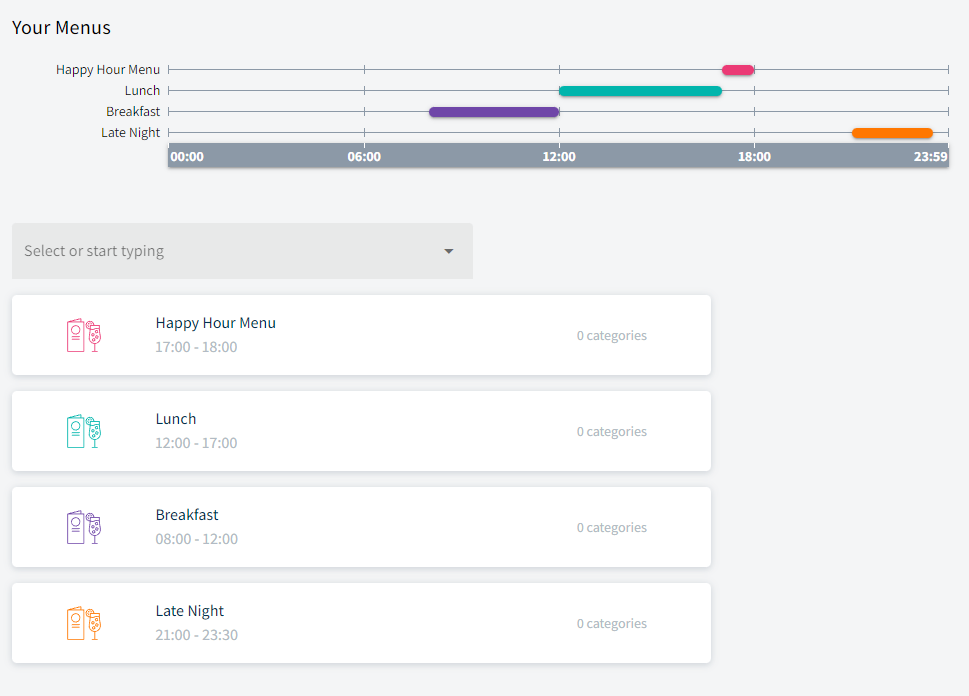 Menus are dynamic and time-related, 
controlling the appearance of the items 
displayed in the Client's App. 
For example, Breakfast Menu between 08:00-12:00, 
Happy Hour Menu between 17:00-19:00, etc.
Each menu will display the relevant items 
linked to this menu. 
A specific item can be 
displayed across several menus. 
The items are displayed in each menu 
within their assigned category. 
For example, your Home Cocktail can be 
displayed in the Happy Hour Menu, 
in the Late night menu, 
but excluded from the Breakfast Menu. 
Each item can hold a different price tag
on each menu where it is presented.
Home Cocktail can be $6 on the Happy Hour Menu,
but $9.5 on the Late Night Menu.
Another possibility is setting a global discount 
to be applied to all items' prices 
on that menu.
The menu timeline will give you 
a better visual display of all active menus 
at different times of the day.
Avoid overlapping menus. 
Main Menu is the default menu 
when no other menu is available
and displays all visible items.
The relevant menu is displayed in the Clients App 
when business is between working hours. 
When business is defined as "Closed", 
out of the working hours, 
your business menu in the Clients App will display, 
by default, the Main Menu with all items.
Tables are meaningful in the DreamDiner system 
as they are vital signifiers for client orders
and the waiters associated with them.
Your business needs to set at least one table, 
even if you don't have tables at all.
Each table has its unique name and color,
making it easier to identify which table 
and client to deliver the order to, 
and which waiter should pick it up…
Tables are also used in the 
Table Planner Reservation App, 
an intelligent reservation and seating optimizer.
The best practice is a table name 
with not more than four characters.
Waiters play a crucial role in the service 
and efficiency of the restaurant's work. 
However, DreamDiner can significantly 
reduce their number 
and the restaurant's dependence on them.
Here's why: client orders from the Client Apps 
are sent directly to the kitchen terminals, 
with independent payment afterward.
The Waiters App is mainly an efficient tool 
helping them deliver items declared as "Ready" 
to the hungry clients eagerly waiting.
The Waiter's App also enables menu access 
to take and make client orders.
Waiters can be assigned to your tables, 
thus giving each order and table 
the waiter's color for better control 
and efficient order delivery.
The waiter will enter the Waiters App 
with the mobile number approved by you here.
Your waiters will get a clear overview of all active client eat-in orders and get notified here when the "Ready" items are waiting to be picked up and delivered to them. Waiters will also find menu access to take and make orders, exactly as all clients do. Visualization made easy: Each waiter chooses a unique color. Then, they are assigned to tables that inherit the waiter's color, and so do all orders from these tables. This coloring logic helps identify which items belong to which tables, clients, and waiters. Your assigned waiters can log in and enjoy a new digital serving experience!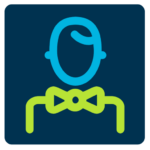 A Kitchen station ("Terminal")
is a designated area where 
a certain type of food is prepared.
For example: "Grill", "Indoor Bar", 
"Salad Preparations", etc. 
Place a Kitchen App in every Terminal, 
and set the Terminal selector accordingly.
Your ordered items are now displayed just where 
they are meant to be prepared in your kitchen: 
an ordered cocktail will then show 
only in the app terminal set to "Bar" – 
and the Home Burger in the "Grill" terminal, etc. 
This selective routing significantly improves 
the accuracy and convenience 
of your kitchen preparations.
Kitchen stations are unlimited. 
Main Kitchen Terminal is a system default 
and holds by default all station items ordered.
A kitchen staff member can be, 
for example, a "Chef", a "Sous Chef", 
a "Floor cleaner", a "Dishwasher", etc. 
A kitchen staff is also authorized 
to enter the Kitchen App – 
where all the preparations 
are conducted and delivered. 
If preferred, assign each member 
to a kitchen terminal:
a Bartender to the "Bar" terminal, 
the Sous-Chef to the "Salad Preparations" terminal, 
and so on.
If not assigned, the "Main Kitchen" terminal 
is always the system default.
The staff member will enter the Kitchen App 
with the mobile number approved by you here.
The Kitchen App is where all your client orders are loaded and displayed. The Mainboard display can show all items and orders under the "Main Kitchen" terminal - or just the related items linked to a custom terminal you have entered - such as "Grill", "Salad Preparations", etc. Place a Kitchen App in every kitchen terminal, and set the display selector accordingly. Your ordered items are now displayed just where they are meant to be prepared in your kitchen: an ordered cocktail will then show only in the app terminal set to "Bar" - and the Home Burger in the "Grill" terminal, etc. Drag & drop or click on any item or order palette to shift it ahead - from the "Ordered" state to "In preparation", then "Ready" - and finally "Delivered". Conducting a neat and accurate preparation process is the worthwhile goal of this app. Your assigned kitchen staff members can log in and enjoy an efficient preparation work experience!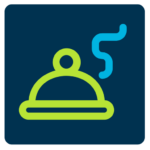 Supervisors are your business companions,
so share with them the mobile Admin App:
a handy management tool for running 
your business and service in real-time.
Supervisors can perform various tasks 
within the Admin App: overview orders,
check total sales, get payments, 
give discounts and more.
Supervisors can access the Admin App 
with limited access to some features
which are granted only to the system Admin. 
The Supervisor will enter the Admin App 
with the mobile number approved by you here.
The Admin App is a handy management tool - a helpful companion for running your business and service in real-time. It will give you a good overview of today's orders, sales, and more. Your assigned supervisors are also invited to log in, although some sections are limited only to you, the Business Admin. So download this app and enjoy better business control, all at your fingertips!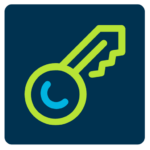 Your items are your showcase in the Clients App.
After setting your Terminals, Categories, 
Menus, Extras – 
or skipping them and setting the system defaults – 
your item is ready for creation!
Assign it a catchy title, 
a short description, 
a beautiful image, and a price. 
Other fields are optional or mandatory – 
follow the short tooltips where needed. 
Allergens and Special Label tags
are also valuable indicators.
A unique three-letter code is a helpful reference 
needed in the Kitchen App.
Items are linked to your menus 
and displayed on each menu 
under the associated categories.
An item can hold a different price 
in each assigned menu.
Any business needs at least one item, 
so make it a good one!
Item Extras are all personal adjustments 
you allow clients to request upon ordering an item. 
There are two types of extras: "Single Option" 
which is straightforward, for example: 
"No onions", "Add ketchup", "Wrap to go", etc. 
While "Group Options" is a set of options 
in which the client can select only one. 
For example, a meat preparation degree 
is either Raw, Medium, or Well-Done.
Another "Group Option" example is a single 
side dish selection: the client can choose only one 
– spaghetti, rice, or fries. 
Each "Extra" can be free of charge 
or have a specific price tag 
added to the total item price. 
Additionally, items can be linked 
to as many "Extras" as needed.
Your business White-label App is one of DreamDiner's platform highly significant advantages. Your White-label App is your private client app, dedicated only to your business with no access to other businesses. With your logo and designed preview screen, it presents only your menus. White-labeling is a better brand strategy and user experience to place your client orders. Consider this vital enrollment. Sometimes dreams come true, and soon, you can download your business apps on Google Play and Apple App Store!